So I have made a new frankenpolish. Named after the manicure I used for its debut.
I went to a friends birthday recently and all the ladies had awesome manicures and pedicures (as did I but I does mah own nailz)
One Miss Tiffany had an awesome gray polish on her toes and when I asked her what it was got a "I dunno, got it at my weekly pedi"
Hrm...
So went home and having had the bottle of white polish from LA Colors (Energy Source) a drab white out color) I took it, doctored it with ink black from Sally Xtreme wear until I got a gunmetal gray.
Then thinking I needed a little something and having a longtime LOVE affair for 70's muscle cars I put a shiny black racing stripe down the side.
Vroom-Vroom Gray Franken Polish is born!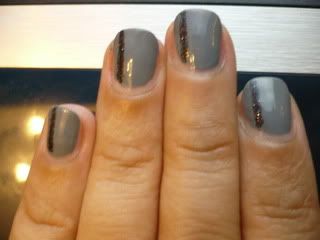 I think this manicure is hawt.
KJ