Kane was attacked by a third pit bill.
This one was ALSO off its leash.
This ones owner was also useless in helping separating the dogs.
He stood there watching us trying to separate the dogs waving his hands and calling for his dog over and over instead of just going and getting his dog like Crash and I were trying to do.
Kane had a muzzled leader on and in the fight somehow put his canine tooth through his front lip.
I got him upstairs, got the tooth out, stopped the bleeding and then closed the wound with vetbond after cleaning it with surgical scrub and hydrogen peroxide.
Kane was a trooper and only snapped in the air when I pulled his lip off his tooth and not at anyone just in the air because it hurt.
But since it was 9 PM on a sunday no vets were open and we had no where to take him.
I gave him 30 MG of Tramadol suspension I had left over from when I was in the hospital and His first dose of Cephalaxin.
I've been cleaning his mouth wound, giving him clean water and having him eat fish and eggs to make it easier to eat and to speed healing.
His wounds are pretty much closed up this morning. He came away pretty much unscathed except for the tooth.
The other dog had a snapped harness and not a scratch.
It was off its leash in a SCHOOL PARK wit a 5 foot by 3 foot hole in the fence.
This is the third time a pit bull off its leash has attacked Kane. Where as Kane who has been deemed an "aggresive dog" has never attacked another dog.
Look: here was my sweet boy just hours before his walk: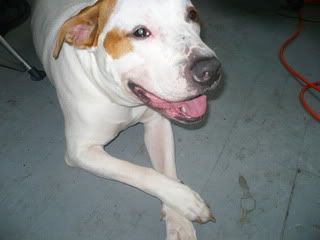 Then this morning when I had to clean his wound, bundled up in bed with mama after pain meds:
Here is an up close view of his mouth:
Poor guy, I hate jerks who don't keep their aggressive dogs on leashes! Mine wears a muzzle and NEVER goes off leash and has never GONE AFTER another dog. He is RE-ACTIVE not proactive. He doesn't go looking for fights like these dogs did.
KJ