So I was hoping to score some Maybeline Nail enamel when I saw a few bottles of LA Colors Color Craze. Not knowing anything about the product but really digging the in your face brightness of the turquoise shade of "Atomic" I snagged a bottle and thought "hey for a buck if I hate it who cares?"
I went home and booted up the trusty laptop and found
this
site. Needless to say I was shocked and a little thrilled to find out my dollar store find was a cruelty free, toluene and formaldehyde free product!
So further enthused I waited until my current manicure at the time (China Glaze Strawberry Fields) gave up the ghost and then go my arsenal together and set to do my manicure.
Because this is a somewhat darker enamel I always start my manicure with a good coat of Orly Orlon Base coat.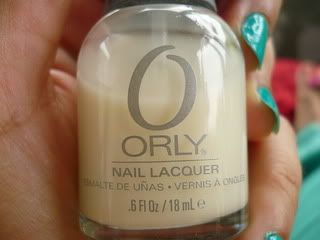 I have not found any other base coat that I like better for the price. I use this to set up a barrier between my nails and the color because I noticed my nails yellowing a bit.
Next I apply Creative Nail Design "Stickey" Anchoring base coat. Yeah, yeah, I know two base coats. Here is the thing though, I noticed that using the CND Stickey alone did NOT help to stop yellowing. Also I read reviews of CND Stickey and several people said that while it is great for making your color stay longer it is not good at stopping the yellowing of the nail.
So I consulted a friend of mine who is a nail technician at a Spa in Palm Springs and asked her opinion. She said she alternates between light and dark polishes, uses a regular base coat and the CND Stickey basecoat, and gives her nails a good scrub with baking soda and peroxide paste followed by a soak in a bowl of water with a denture tablet. She does this every other time she changes her polish (so once a week) and says her nails are not yellow in the slightest.
Since I have been following her advice I noticed that my nails are much whiter and I can barely see any yellow at all.
At one point they were getting pretty gross.
See the yellow on the side of the nail peeking out from even underneath? ewww.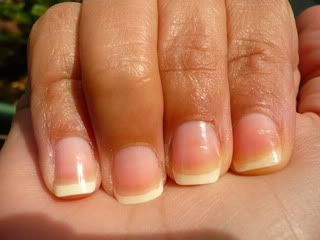 After two treatments, and a light buffing, the yellow is SERIOUSLY on the outs.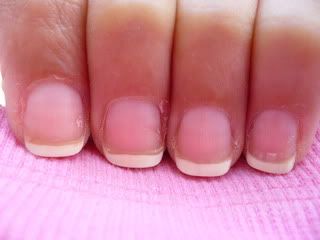 Today before I did my nails. The basecoats, treatments, and care paid off!
My pretty "Atomic" nails in the sun. I love this color! I cannot believe it was a dollar!
So, lesson learned about base coats, nail care,and enamel ingredients. I learned a lot by taking a risk on a tiny bottle of pretty blue nail enamel and it paid off.