WHEN was the last time I got to sit down and do a great manicure AND show it off AND talk about products?
Yeah.. very excited to have things calming down in the cat cave.
First and foremost thank you Miss80Millions for patiently giving me advice on spongeing, her vids can be found
HERE
and
HERE
So onwards! I have a fantastic mani to show y'all I used the following:
My super duper base which I recommend to EVERYONE Salon Science Instant Artificial's If you have weak nails that break easily this is your nail stuff. Available at Sally's Beauty everywhere.
"Misa "Femme Fatal", Sally Hanson Extreme Wear "Crushed", and Sally Hanson Salon "Hidden Treasure"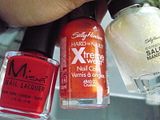 Topped off with Sally Hanson Strengthening top coat. Just a quick side bar, this top coat is NOT fast drying, it was the only top coat I have left because I am out of fast drying and well, I am having some issues with formulas! This is normally my French top coat only, but I have to say it IS hard, shiny, and does strengthen.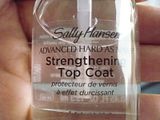 OK So the method:
I wanted a manicure that "looked" kind of batik but was shiny (of course) and had depth.
So I first applied one coat Misa "Femme Fatal" a beautiful red with a slight orange warmth.
Then I sponged on Sally Hanson Extreme Wear in "Crushed" I did two applications using the sponge method (great tutorial for it
here
Make sure when doing this manicure that you apply the nail color to the sponge and then dab it once on a piece of paper. This helps to make the color apply better not gloopy.
After letting the "Crushed" color dry I applied two coats of Sally Hanson Salon "Hidden Treasure" (note NUBAR 2010 is an EXACT dupe and can be bought
here
AND Nfu oh has a dupe as well and can be bought
here
)
After applying those and letting them dry I applied my top coat and voila!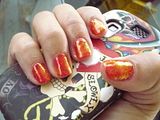 Look at that flash!
I could not stop looking at my nails: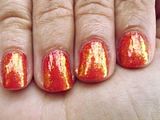 Hope you enjoy and have a happy day!
KJ