So I FINALLY got my hands on some China Glaze Crackle polish!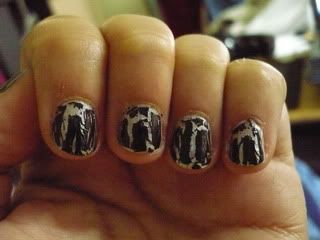 But I do have pictures of a few other mani's to tide us all over until I can cook or try a new product.
Oh Quick review first, Nivea sent me some lotion to try for a week Nivea "Soft" for body and face.
Went on quick, absorbed fast, made my face feel too greasy but on my body was AWESOME. It worked like a thick cream without feelig greasy or taking forevr to absorb. 5 hours later and after vacuuming the whole house and spending 3 hours outside with the dog my skin is still moist and comfortable but not the least sticky.
Made me get a small bump on my chin (I have a super sensitive face!) But otherwise I think I am going to ditch my Neutrogena and buy a big bottle before they DC it!
Here is my sparkle mani: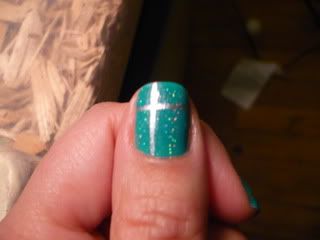 T'Jours!
KJ