So my Fyrinnae makeup came while I was down with the sickness.
I managed to do swatches of the gloss and eye shadows, as well as a full look using the bronzer and sunkissed finishing powder.
So without further ado lets get started:
Here is the swatches: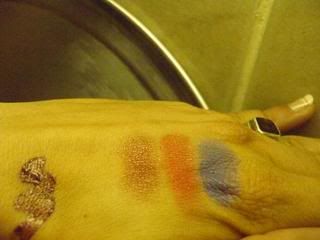 Left to right: Acidic Cherry Lip Gloss, Candy Coated Eye Shadow, Kamikaze Eye Shadow, and Delvian Eye Shadow.
Here is a look using the Sunkissed Finishing Powder, The Medium Bronzer, the Candy Coated Eye Shadow, and the Acidic Cherry Lip Gloss.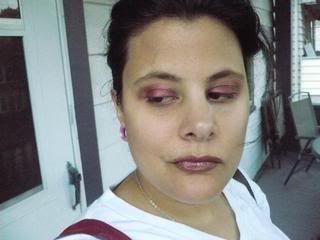 So on to the review!
I am a long time MAC fanatic. I still have much love for MAC but I have to say for 5.90 a pop these loose shadows pack a WHOLLOP amount of pigment! And bonus? They are VEGAN.
So to prep my lids for Fyrinnae I used my normal primer of a NYC mineral concealer patted on my lids and then applied "Candy Coated". This shadow stayed true and vibrant for 6 hours of humid sweaty schlepping around with no AC and the windows down in my crappy car.
Which I cannot say for my MAC eye makeup.
I was looking too, no creasing in the brow line, no flaking off, the color seemed true and vibrant until I took it off with a chamois cloth and diluted baby wash. I also have to say much to my delight and surprise that the Fyrinnae eye shadows not only came off in one or two swipes, but they left no staining!
Again, something that I can't say for some of my other bright eye shadows.
The finishing powder looked really white when I got it and at first made me a little nervous. But I am glad I used it anyway. It blended in easily with my Kabuki brush and gave my skin a pearl like sheen without looking "powdery" or "ghostly" I used the bronzer like a blush and it warmed me just enough to look "healthy" but not like I put on bronzer.
Which in my opinion is what a bronzer should do.
I have eczema and was unsure if these formulas would irritate my skin, but I wore then two days without any itching, rashes or problems. Color me impressed.
Now for the one product I am not so thrilled with.
The Acidic Cherry Lip Gloss.
Perhaps I should have chosen Blood Stains instead. Perhaps I am a lip gloss snob. But I am not impressed with the Lipgloss from Fyrinnae.
The color looked pretty, but it was difficult to get on evenly, smelled strongly, was extremely tacky and difficult to work with, and once I applied it, even after using the tried and trusted apply, blot, reapply method, came off within an hour.
It also left my lips feeling dry and despite the promise of non transfer was sticky and when I kissed my fiance goodbye he said "Eww your lip gloss is sticky and stinky!"
As I said, perhaps I would have been better off with Blood Stains. I told the lovely staff at Fyrinnae the trouble I had with their lip gloss and was almost within the hour of posting my review sent an e-mail offering an appology and offering to send me Blood Stains or Okinawa Beauty with my order that I had placed to I could see if another lip gloss was more to my fancy.
What DIVINE customer service! Does anyone actually perform customer service anymore? Well apparently Fyrinnae does and they also care about what their customer think of their products.
Which to this writer and reviewer means quite a lot.
On to the Eye Shadows and insert the Squeal of delight!
The Eye Shadows I loved so much I just ordered two more and a sample of Pixie Epoxy from their Website which is here:
www.Fyrinnae.com

I highly suggest you load up on some samples on eye shadows, bronzer, and finishing powders! They are vegan and well made and work wonderfully. I honestly cannot stop playing with them and have already informed Mr. Rogue that I WILL be purchasing three full size pots once I figure out which colors best suit me.
The question is, can I narrow it down to three?
Next post- Salon Science Instant Artificials Review and CG Spontaneous!
XOX
KJ