So I have been REALLY trying to eat low fat and no sugar. Let me tell you, going into a gas station now I am just AMAZED at the high fructose crack syrup treats that are freaking EVERY DARN WHERE!
I have finally found my body surprising me. I FINALLY don't drool when I see something sugary. I can remember how crappy I felt and NOT eat it. Still. Now if I eat an apple I am shocked at how good it is where before I would have said "An apple? I want a 'lowfat' poptart" Now, I KNOW low fat isn't necessarily healthy and I know low carb isn't either. I have just been trying to eat my daily requirements of fruit, and veg and if I am craving something I do a low calorie version. My fave?
Grilled cheese Hungry Girl style.
2 slices low carb no sugar bread (who stone ground wheat or 12 grain is good, just make sure its smaller, not those gigantic pieces!)
1 Tablespoon Brummel and Brown spread
1 piece fat free cheddar cheese
1 laughing cow light spreadable cheese. (I like bleu cheese flavor, but I love stinky food cheese)
put one half of the Brummel and brown on one slice of bread and place on hot skillet. place cheddar on bread in skillet..
Now spread the Laughing Cow Cheese on the other slice, put in n the bread in the skillet.
Use the other hald tablespoon of Brummel and brown to spread on the back of the bread slice.
Wait about a minute (med low heat) and flip, cook other side for another minute, serve with tomato wedges! ok that's just me...
I can't believe I have made these over 10 times for me and the fiance and never took a picture. But other pictures of some of my diet food creations:
Turkey burger with baked center cut bacon and reduced fat cheddar and low carb Kaiser roll:
Reduced fat vegan Caesar Dressing on Romaine with Turkey Bacon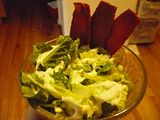 Stuffed Green Peppers with 90% lean ground beef, and low fat part skim mozzarella string cheese
And breakfast oatmeal with flax, toasted wheat germ, sliced apples, cinnamon, allspice, cloves, and splenda:
Hungry? me too!