So my fiance, dog, and I went for a 5 mile hike at the Clark reservation.
The last time we went the mosquitoes were so terrible we made it about a mile before literally RUNNING for the Jeep.
So this time armed with water, sandwiches, dog snacks, and Deep Woods Off we went on the Long Trail Loop with PuppyChupra Kayne Michael.
Can I just say my dog is HILARIOUS? He kept sticking his head in the rock crevices and barking, or pulling Crash to the egde of the cliff face and trying to look over.
Crash said he about had heart failure.
But Kayne LOVED climbing rocks, walking the trails, and getting to drink out of the stream. Here are some pics: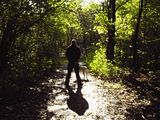 Some Scenery: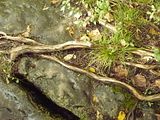 And my nails? well I tried to do UV-less gel overlays, and that didn't work out. They ended up cracking or lifting. So I said "screw it" and took them off. Then I used my Nail Magic Base coat therapy, and two coats of Beauty secrets Hardener. THEN I used 4 coats Wet and wild Meet my Magenta that I frankened with China Glaze "Strawberry Fields" and OPI "OPI Red" MMM was just too sheer by itself.
So I ended up with this color: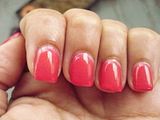 There is still a SLIGHT visible nail line (VNL) and I didn't do an accent nail. I have some Holographic Bar Glitter from Sally Hanson Xtreme Wear that I am toying with throwing a coat on.
But not until tomorrow.
I am REALLY trying to go at least three days before changing nail color. This is day 2, I would like to make it until Friday, I am not going to lie, I may decide to play with some striper polish, or add a coat of Fairy Dust or 9021Orange if I don't go crazy with Bar Glitter LOL.
Soon I will be posting a recipe for a super absorb-able and less greasy cuticle creme that I have been using with great success. I have been playing around with the ingredients and currently it has petroleum and I am toying with finding an alternative like Whipped Castor oil or Beeswax, though I am leery about bees wax because I feel like they need it more than I do...
So whats your opinion? Beeswax ok for us to use, or should we leave it to the bees?
KJ