I am nesting. Whenever nature plays its evil, painful, bit*hzilla inducing plague of the lady parts on my I start craving food like I am knocked up.
So knowing that I needed to make some easy grab and go breakfast, as well as craving short bread like CRAZY I decided to make two simple, cheap and relatively easy treats.
First off was my Nana's Russian Tea Cakes. They are basically short bread rounds, infuse with vanilla beans, lots of organic butter and chopped pecans then covered with powdered sugar.
They are by far one of the most quickly eaten cookies on the cookie trays my Nana used to make every wnter.
Nekkid bawls:
Clothed in sweet confectioners sugar: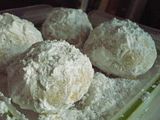 The final thing I made was Creme Koekga. Its a breakfast cake with creme fraiche, vanilla, pecans, brown sugar, and organic eggs.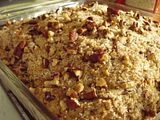 This is one of the cakes my Nana used to make us and we would get to take some for lunch desert.
Its full of yum and easy to make and the ingredients are cheap too.
Ok nap time for this tired sleepy ewok.
KJ