These are definately summer nails. I am debating whether or not to add a coat of Sally Hanson gold flakies over it. part of me thinks "wow pretty!" the other part says "get up? its nap time biotch!"
I think nap time wins...I don't even think I have the energy to do top coat right now. At least my toes and fingers are painted and I have brushed my teeth, showered, and am resting up for laundry
Here are my nails. HORRIBLE picture: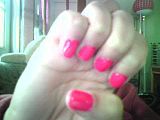 Thats all for now. Looking up Cajun Shrimp online is better to see the color.
THis
is perfect
KJ