So First for the win:
Fauxroni, Chreeze, and vidalia onion pizza on home made dough, with home made sauce:
Amish Sweet Bread:
And...
Matzo Crack: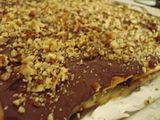 Don't ask me how many times I had to make each to get them perfect...
And a fail!
Cinnamon rolls: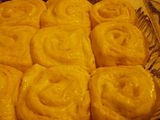 Wait...WTH is wrong with them...Sits up pondering...didn't add freaking cinnamon.
F-it they are sweet rolls instead. Eat em.
KJ