I have always driven by The Syracuse Thornden Park Rose Garden and said "I have got to get there and see the roses"
For 8 years living in Syracuse I have been there twice.
Once for the tackiest wedding ever. And once to break up with a boyfriend.
Ah sweet, sweet memories.
I needed to get back to the garden and make it less of memory seeped in evil.
The one great thing about this greenhouse weather we have been having is apparently it has made for absolutely robust and stunning roses.
So I grabbed my handy Panasonic, my Keen sandals, and Deep Woods OFF! and went to smell the roses.
A small bit of trivia I learned boning up on the M. Mills Rose Garden. The Mills Rose Garden is one of ten AARS accredited public display rose gardens in New York State.
The Syracuse Rose Society is in charge of maintenance of the roses in the M. Mills Rose Garden and it is the third Syracuse Rose Society garden founded in Syracuse by the society which was started in 1916.
This garden is located in Thornden Park, Syracuse, NY. A park that is located on land donated to the city by M Mills, a founding member of the Syracuse Rose Society and Rose and Garden enthusiast.
Thornden Park still boast the M Mills Rose Garden and the Syracuse Rose society continues to perform maintenance every Wednesday and some Saturdays throughout the late spring through early November.
I have this vision of the Syracuse Rose Society being a select group of people converging on the rose garden in the early morning when the park is still misty armed with pruning shears and hand misters. Wearing straw hats and khaki shirts silently moving across the garden like devoted monks at prayer. I am informed by a member of the SRS whom is 25 years of age with a laugh that my visions are fanciful and couldn't be farther from reality.
In truth they are always happy to have a hand weeding, pruning, spraying, and hand picking dead heads off flowers. Often there is music, laughing, and refreshments in the gazebo that sits in the center of the garden.
With this new insight shattering my ninja-assassin secret society of rose enthusiasts I still find the enthusiasm to go sniff the local flora.
Upon entering the garden and visiting rows upon rows of riotous color, the careful dedication of his small group of volunteers shows.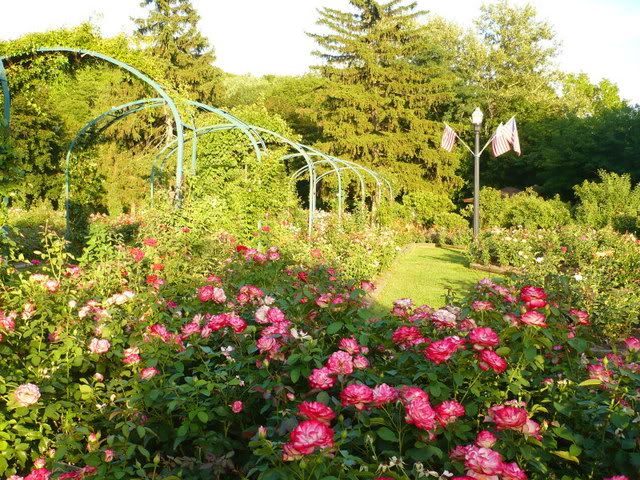 Hundreds of people use the Rose garden During June through Early August for Weddings, Photo shoots, and parties. When others are not using it for these reasons you can still find people walking around simply enjoying the relaxing atmosphere of the blooms.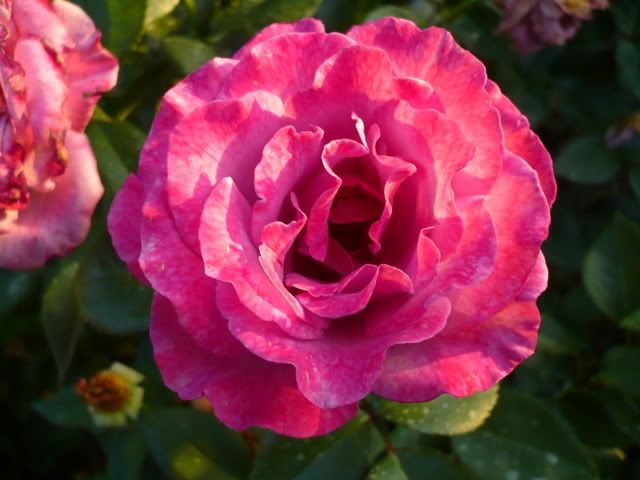 The sheer amount of colors is enough to keep you wandering around in circles for hours on end.
I found colors that I had to check the camera and take off my sunglasses because I wasn't sure I was seeing correctly.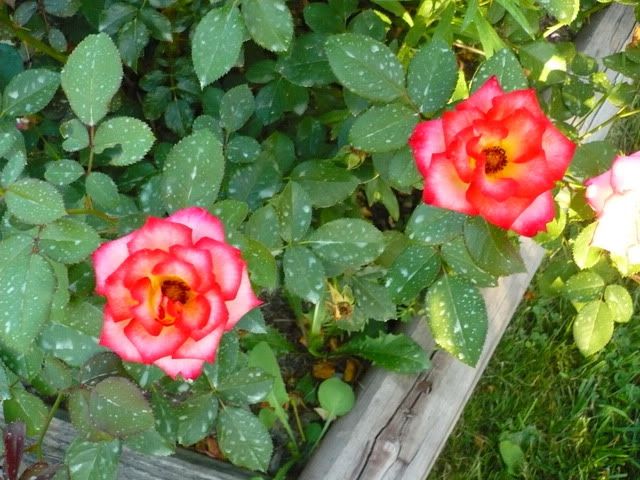 Unusual shapes, colors, scents. Flowers that I couldn't confirm were roses except for the placard set at their feet.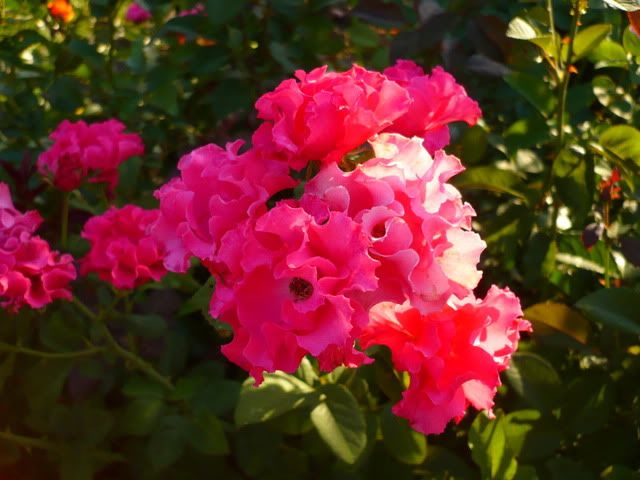 And roses that reminded me of loved ones like my grandmother who used to tell me how she had once received a perfect blue rose and always remembered it as being so beautiful.
However the most interesting thing about the rose garden is not the roses themselves. It really isn't. It is the age of some of the bushes that are still blooming there.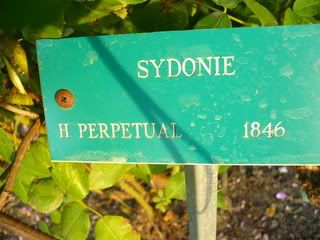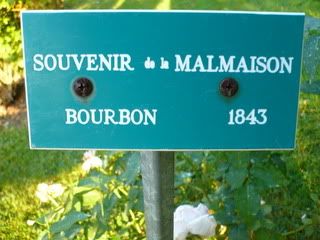 Those are just some of the oldest placards that I took a picture of and not all of them.
I was thoroughly exhausted, sore, and had no power left in my camera by the time the light faded from the sky and I trooped back to my car to head home with my camera full of pictures and my nose full of heady perfume.
It occurs to me though the M Mills Rose Garden is more than a place in Syracuse with pretty flowers. Its more than a beautiful place to get married, more than a nice area to soften the blow of a breakup, more than a romantic spot to walk and hold hands.
It is a sacred beautiful space where anyone can come and still find something to be in awe of. A place where people with a common love for a very old flower still join together to keep it beautiful for our future generations.
So if you are near, don't wait for a special occasion to visit these pockets of beauty. Its our responsibility to enjoy them, share their beauty, and revel in their splendor.